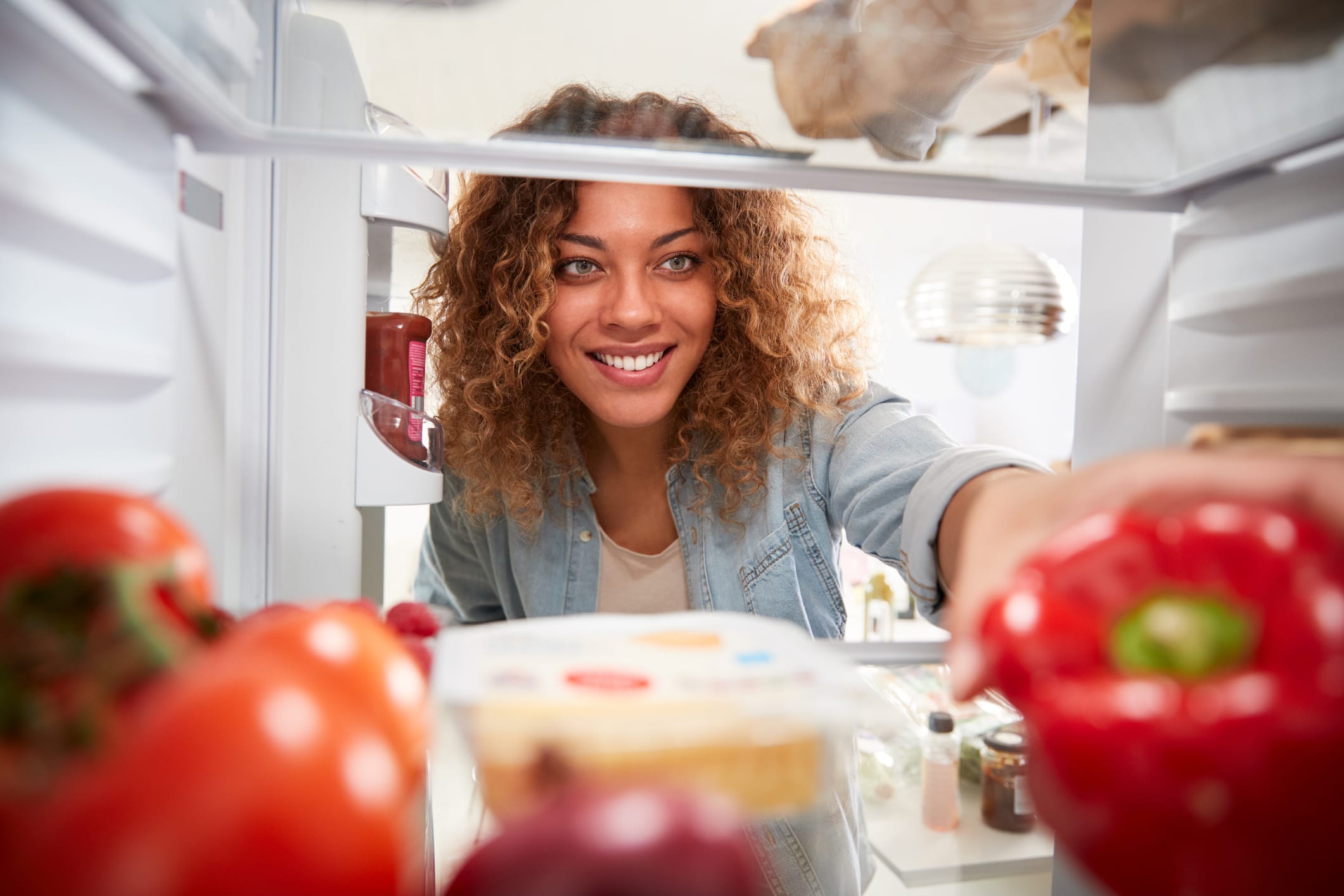 This Best Buy brand is well known for its Fire TVs, but Insignia also has a variety of refrigerators costing under $1,000. You can shop a fair amount of mini refrigerators — including stylish retro models — but you aren't restricted to just mini chillers. We found 10.5-cubic-foot refrigerators with a list price of around $360, 18.1-cubic-foot models for around $550, and a stainless steel, top freezer model measuring 21 cubic feet for around $775.
If you're in the market for new electronics, Samsung has you covered — from TVs and phones to wearables and computers, to major appliances, and so much more. With its wide variety of items, this big brand can cover a range of budgets; it shouldn't be a surprise that it has refrigerators priced under $1,000. Samsung offers a number of designs, including top freezer, side-by-side, French door, and even specialty fridges. There are Bespoke models, which normally start around $1,300; however, you may get lucky and find some of the smaller ones for around $999. You can expect lower prices if you shop top freezer models, as list prices for those start around $749. While Samsung might be pricier than other refrigerator brands, you can still find an 18- to 21-cubic-foot refrigerator for under $1,000.
Known for its large appliances, Whirlpool is another brand that has a handful of fridge options under $1,000. Unfortunately, paying less overall can also mean getting less space — that's not necessarily bad, though, especially if you're working with limited space.
You can expect to find 11.6-cubic-foot refrigerators measuring 24" wide for as little as $550 — and in a few different finishes, to boot, including fingerprint-resistant stainless steel. Some finishes, like the stainless steel, tend to cost more; in this case, the price jumps to $599.
If you need more space, know that a 14-cubic-foot model from Whirlpool will likely start around $640, and an 18-cubic-foot model could be priced from around $780. You won't be able to get a Whirlpool fridge that's much bigger than that for less than $1,000, though. We saw 19-cubic-foot models with list prices starting around $880, depending on the finish, and those can quickly jump over that $1K line.
Frigidaire's like other fridge brands, in that you'll be restricted to top freezer or compact refrigerator models if you want to stay below $1,000. Prices for the dorm-friendly machines tend to start around $309, but we're guessing if you're reading this guide, you probably need something closer to a full-size appliance.
Frigidaire refrigerator prices aren't necessarily based on size, which can make estimating costs a challenge. For instance, we saw a 13.9-cubic-foot refrigerator start around $799, while an 18-cubic-foot model was priced from $819. However, you may also find yourself paying $819 for a 10.1-cubic-foot model, and an 18.3-cubic-foot refrigerator could start around $870. Even an 11.6-cubic-foot "apartment-size" refrigerator could set you back $890. The best thing you can do if you're shopping for Frigidaire appliances is to have a concrete list of features and designs you want, so that finding a model that fits your budget will be easier.